Last year we made the first version of our pen/pencil roll fat quarters project, but recently, due to feed back from the kids that use them, we made an improvement.
But first let me say how LIFE CHANGING this project has been. The kids love them because they travel well, easily fit in a backpack and it's easy to clean up and put away. As a parent, I love it because instead of bins that get dumped out, when looking for a specific color, the roll is dramatically unfurled and the creating begins. My kids and their friends may be a little spoiled with these nifty pen, pencil, brush, or any thing that fits in them, rolls. I have made quite a few of them and was even asked to make two for our PTA's silent auction (shown below). The auction pen rolls have the new and improved design.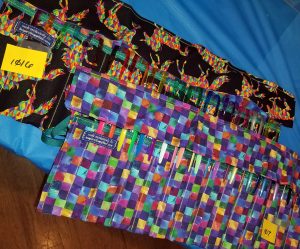 The improvement I was asked to make was a "flap" to fold down over when what is kept in the roll doesn't have a clip, as the pens did in our first design.
Don't worry this is a project you can still make with 2 fat quarters, some ribbon and interfacing. Instead of trimming the extra fabric you don't need as we did in our first version, we left the extra fabric and folded it over to make a "flap" that will hold in any items that don't have a clip as pens do to keep them in the roll. These rolls are a little bulkier, but pencils, brushes or markers won't fall out.
To create this roll, you simply choose where the extra fabric will fold over (based on what you want to have inside) and then run a straight stitch across it between 1/4″ – 1/2″ away from the edge of the fold over to define the flap that secures the contents of the roll.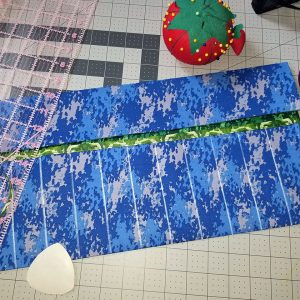 As with the previous post, most of the materials you need for this project can be purchased in our sewing category.
Specifically to make this pen roll, the only fabric that we cut from the fat quarters was any uneven edges once we put the two quarters together with the interfacing. This Camo Fat Quarter combination and ribbon can be purchased as a kit.
The Camo themed roll I made was the first one I made with a foldover flap and I didn't run the straight stitch, I just ironed it. The feedback was that it would have folded over more consistently had I sewed it.