When you buy a bed in bag you only get TWO pillow cases, but who only needs TWO pillow cases? In my house we need at least 4 pillowcases for each bed in our house. You could spend anywhere from $20 (at Target) to $100 (for the finest Ralph Lauren) for TWO pillowcases. Or you could buy one yard (for standard pillowcases) or 1 1/4 yards of fabric (for a king sized pillow case) x 2 for around $10 (if fabric is on sale) to $25 (full priced, fully licensed fabric – think Disney, Marvel, etc.) and make your own.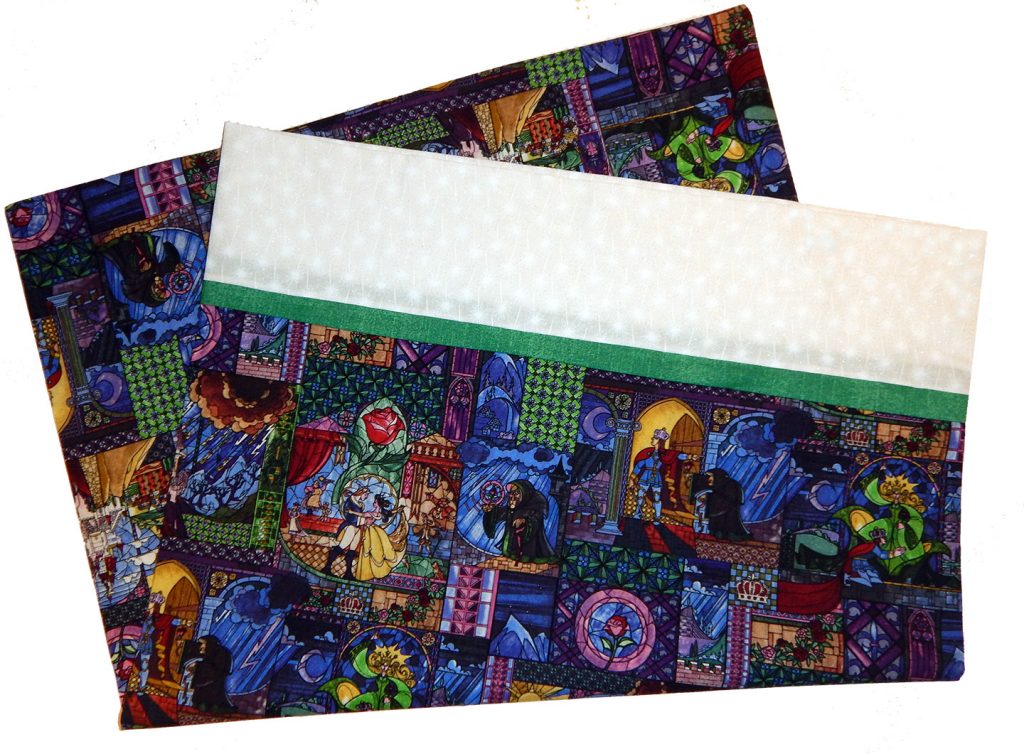 These pillowcases will be exactly what you or your kids (of all ages) want, until they decide they "love and just have to have" something else! Then, because you're a savvy parent, you don't have to change out their entire bedding set because they now despise Dora or Diego.
Other reasons to make your own fun pillowcases:
Special event "souvenir" pillow cases. Before we went to Disney, I made everyone in the family a Disney themed pillowcase of their favorite character or movie. Then we used these pillowcases on the pillows we took with us.
If you have a queen sized bed but love a king sized pillow, don't worry about buying the matching pillow cases, you can make your own.
Unique pillow cases are great to take on vacation – you won't have any disputes about whose pillow is whose.
I don't know about you, but my kids sometimes need to change their pillow cases mid-week, having extra fun pillowcases makes this easier.
These are the pillow cases that are not in use right now, as you can see we have lots of different preferences, but all are fun:
There are all sorts of blogs and YouTube videos online as to how to make pillowcases – but here are links to a couple of my favorites using the burrito method:


Or you can keep it simple using one fabric for the whole pillowcase; this link will give you the basic dimensions and instructions.
Having guests over? Use the two pillowcases your bedding came with on top and you're back to it looks like the designer intended.