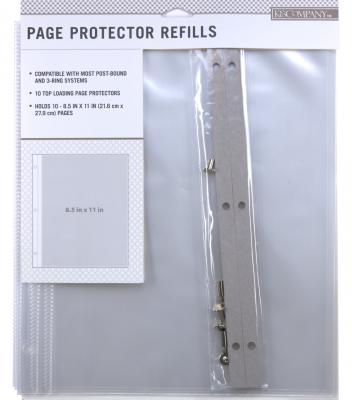 8.5 x 11 K & Company Refill Pages - 10 Pack
Includes expansion strips and post extensions
SKU

KC1002
These 8.5 x 11 top-loading clear plastic pages fit most post bound 8.5 x 11 memory books and scrapbooks. Made by K & Company / EK Success. Instructions on how to expand your post bound scrapbook or photo album are printed in the back of the packaging. This refill kit includes the following:
10 top loading archival clear plastic pages
Compatible with most 8.5 x 11 post bound photo albums and scrapbooks
Includes post extensions and expansion strips
Does NOT include card stock page inserts; 8.5 x 11 cardstock can be ordered in "Related Products" at the bottom of this page.
This product is in stock and usually ships within 1 - 3 days of ordering. Shipping is calculated by weight.