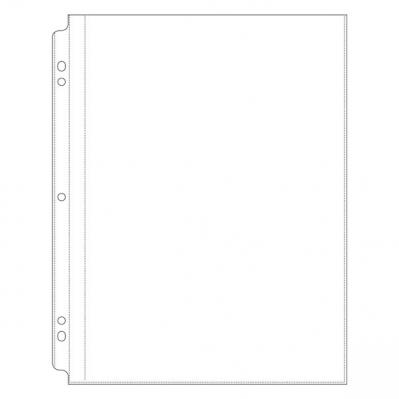 8.5 x 11 Post-Bound Refill - 10 Pack, Clear Plastic Page
10 clear poly pockets will hold 20 photos back to back per refill package
SKU

GSBP11RE
These 3 mil thick, quality polypropylene, clear pages are archival-safe for storing and protecting your most cherished memories. These pages have the extra quarter inch spacer for screw post photo albums, scrapbooks and memory books. These pages also fit nicely in our 8.5 x 11 Bonded Leather Binders. Unlike our other refill packs this refill is only the clear plastic sheets. If you also want card stock inserts and post extenders they can be purchased separately in "Related Products" below.
Product Details
The 3 mil thickness of the archival polypropylene plastic used to make these pages is what makes them superior to other pages.
Ideal for post bound photo albums and memory books, but will also fit most 3-ring binders
10 Sheets for 20 pages (front and back) per package
This is just the pages; no cardstock inserts or post extenders are included.
Replaces the Dalee Gold Label pages
This product is in stock and usually ships within 1 - 3 business days of ordering.