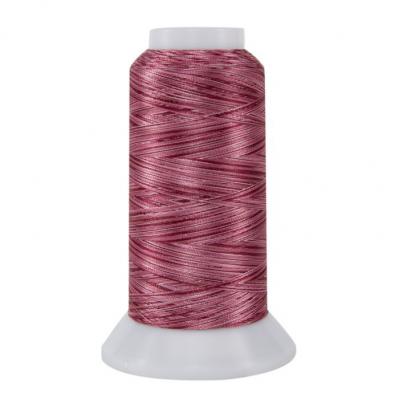 Strawberry Rainbows Thread - 2000 yd Cone
#40/2-ply trilobal polyester thread
Designed for embroidery, quilting, and decorative stitching
SKU

ST859-C
The Strawberry Rainbows variegated thread changes from light pink, medium dark pink, medium pink and dark pink. The #40 Polyester thread - 2,000 yd. cone. Rainbows is a variegated high-sheen trilobal polyester thread which is ideal for quilting, decorative stitching, and embroidery.
Rainbows is precision dyed and has a one-inch color change interval.
Product Details:
Thread Weight: 40 wt./2-ply
Fiber: Polyester
Colors: Light Pink-Medium Dark Pink-Medium Pink-Dark Pink
This thread has a high-sheen appearance which creates bold, visible stitches
This variegated thread is precision-dyed in one inch color change intervals
Cone contains 2000 yards of thread
This product is in stock and usually ships within 1 - 3 business days of ordering. Shipping is calculated by weight.