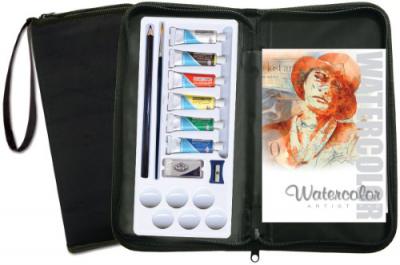 Royal Brush Keep N' Carry Watercolor Painting Set
Essential Watercolor Art Set
Perfect for travel and beginning artists
$

10.00
$12.00
You Save $2.00
SKU

RL6339
The Essentials artist sets from Royal Brush are perfect gift for beginning artists or for seasoned artists who want a compact travel set. This set includes six watercolor paints, a watercolor pad, a Taklon brush, a pencil and an eraser housed in a zippered carrying case that protects supplies for storage and travel.
Each Watercolor Set Includes:
6 tubes of watercolor paints
1 Watercolor art pad
1 Taklon Brush
1 Pencil
1 Eraser
1 Pencil Sharpener
1 Six well paint tray
1 Black zippered carrying case
In stock products usually ship within 1 - 3 business days of ordering. Shipping is calculated by weight.