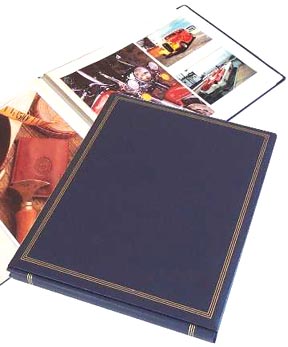 Jumbo Magnetic Page Photo Album
Great for various sized photos
SKU

P1250
Do you have a lot of older non-standard sized photos? Then this photo album is for you. The Jumbo Magnetic Page Photo Album will hold all photo sizes up to 14" x 11". The magnetic pages are archival with no PVC and offer a full 14" wide by 11.5" high usable page. This large format photo album is also ideal for art work and documents. With a magnetic page you simply lift up the clear plastic hinged overlay, position your item on the self stick surface and then replace and smooth out the overlay. Several different sized photos may be used on the same page.
Each photo album is secured with 2 screw posts and comes with 10 sheets for a total of 20 pages. This photo album is easily expanded with refills in Related Products below. The cover is made of padded Endurahide® and is washable. Overall album size is 16.75" x 12.25".
Add custom stamping to your cart from the Related Products list below and enter your text in the "Enter Stamping Instructions" box that appears in the cart.
If you have questions about personalizing your album, you can call 866-772-7200 for assistance.
Due to the large size of this photo album, it is only shipped via ground shipping.
Related Items:
Custom Foil Stamping

Personalize your photo albums and scrapbooks with hot foil stamping!
Pricing is per line
The per line cost includes a $9 setup fee and a $9/line fee
If printing the same line on multiple albums, please call for custom pricing as there is only one $9 setup fee and then the $9/per line fee x the number of products to be stamped.

KPSTAMP