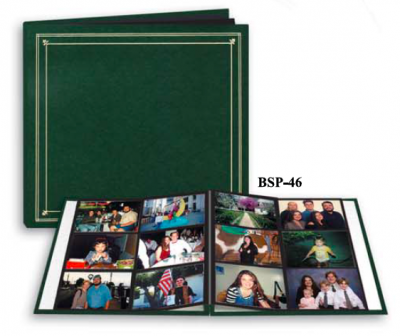 12 At-A-Time 4x6 Photo Album
Initially holds 204 4x6 photos
Expandable to hold 100s more photos!
SKU

PIBSP46
This is one of the most popular photo album formats of all time. Each side of the page holds 6 - 4" x 6" photos, allowing 12 photographs to be viewed at a time. This photo album also includes a memo area for each photograph. The covers are finished in washable, leather-like Endurahide® with gold tooling on the cover and spine. Optically clear pockets securely protect photos and all materials are photo-safe.
The photo album initially holds 300 prints and will accept unlimited refills. Available in Black, Navy and Burgundy. Other colors available via special order: Bay Blue, Royal Blue, Hunter Green, White. Overall photo album size is 14.5" x 14".
This photo album can be personalized with custom stamping, which can be found in the Related Products below. Please feel free to call 866-772-7200 if you have questions or need help ordering.
This product is in stock and usually ships within 1 - 3 business days of ordering. Custom stamping may delay shipping by 5 business days. Shipping is calculated by weight.
Related Items:
Custom Foil Stamping

Personalize your photo albums and scrapbooks with hot foil stamping!
Pricing is per line
The per line cost includes a $9 setup fee and a $9/line fee
If printing the same line on multiple albums, please call for custom pricing as there is only one $9 setup fee and then the $9/per line fee x the number of products to be stamped.

KPSTAMP