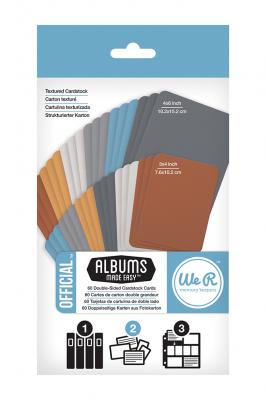 We R Memory Keepers Official 3x4 & 4x6 Cards
Ideal for adding notes, dates and mementos to photo albums this Textured card set includes:
42 - 3x4 Cards in 6 colors
18 - 4x6 Cards in 6 colors
White with grid on opposite side
SKU

ACWR0600
This set of 3x4 and 4x6 textured cardstock cards are ideal for using with We R Memory Keepers binders and pages. Specifically Design A 12 x 12 pages can use both the 3x4 and 4x6 cards to add comments or provided a background for mementos such as ticket stubs, odd sized photos and more. The opposite side of these cards has a grid pattern for adding comments or for precise lettering.
Product Details:
60 double sided, textured cardstock cards in each package
42 are 3x4 cards in 6 colors (7 of each color)
18 are 4x6 Cards in 6 colors (3 of each color)
The opposite size is white with a grid pattern
This product is in stock and usually ship within 1 - 3 business days of ordering. Shipping is calculated by weight.