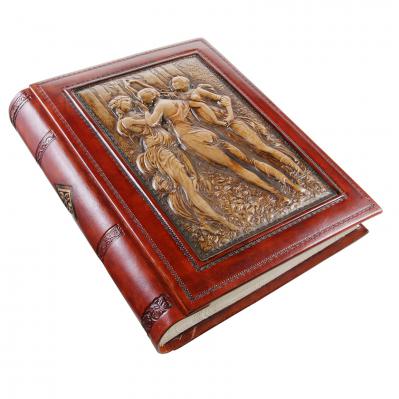 The Three Graces Italian Leather Scrapbook
Daughters of the God Zeus and Nymph Eurynome
Hand Tooled Italian Leather
100 Heavy Ivory Pages
SKU

B1150
In Greek mythology, the Three Graces wielded great power and influence. The daughters of the god Zeus and the nymph Eurynome, they were believed to endow artists and poets with the ability to create beautiful works of art. The spirit of the Graces is captured on the front cover of these stunning albums. Made in small shops in Florence, Italy where families work with tools and materials passed down through many generations, each album is made with exquisite skill and pride. Executed in the finest quality cowhide, the albums are hand tooled and, are themselves, individual works of art.
Each scrapbook album contains 50 heavy, archival, acid/lignin-free, ivory sheets (100 pages) bound with delicate rice paper interleaving for the ultimate in photographic protection. Each page has a usable size of 8.5" x 11.25". Nestled in a draw string bag and stored in a quality two piece gift box, each album measures a generous 10.75" x 12.25" overall.
This product is ordered on demand, it usually ships within 5 - 10 days of ordering. Shipping is calculated by weight.