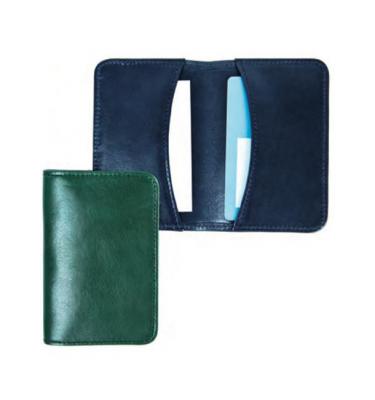 Raika Business Card Case
Available in 32 Finishes
Made in the USA
Monogramming Available
SKU

RA112
This genuine Italian leather business card case is handcrafted in the USA using the finest imported Italian leathers available. Raika offers 30+ leather finishes in a variety of colors and styles. This business card case measures 2.75'' x 4.125''. Full leather lined with rounded corners and one card pocket on each side.
Monogramming is available - See Related Products below and select Raika Custom Stamping
Product Details:
Each side of this bi-fold business card case has a card pocket
Choose from 30+ genuine leather finishes
Wrapped in black flannel and gift boxed
Made in the USA using fine imported Italian leathers
Select your Raika Leather Finish, view finishes. then select that finish from the drop down menu below. Due to the large variety offered, photo albums are often made "on demand" and require additional time before the product is shipped.
View additional Raika products.
If you select a smooth finish for your Raika photo album, you can have it custom stamped. Please see our informational page for more details about personalizing Raika leather photo albums. After selecting a smooth finish add "Custom Stamping" to your cart from the "Related Products" list below and enter your text in the "Enter Stamping Instructions" box that appears in the cart.
Made in the USA with imported Italian Leather.
This product is made to order. These products usually ship within 10 business days of ordering.