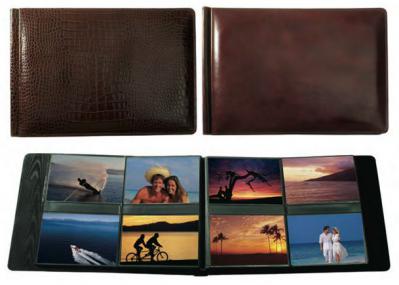 Raika Landscape Photo Album
Available in 34 Finishes
4 Horizontal Photos per Page
SKU

RA178
This particular photo album design displays 8 photographs at-a-time inside, with 4 horizontal pockets on each page. Inside, the photo album lined with complementary moiré fabric. The 4" x 6" framed opening is ideal for a favorite photo to hint about the memories contained within insert. A loop closure secures your photographs.
The overall photo album measures 15" x 10" and initially holds 25 black pages which can display 200 4" x 6" photos. This post bound picture album can be to hold over 300 pictures or 40 - 50 sheets (80 - 100 pages). All Raika leather albums are wrapped in a soft flannel cloth and gift boxed.
To select your desired finish(es), please click on "View Raika Finishes", make your choice and then select that finish from the drop down menu above.
This album is also available with out the frame opening on the cover. Shown in the second image, which also shows alternate finishes.
If you select a smooth finish for your Raika photo album, you can have it custom stamped. Please see our informational page for more details about personalizing Raika leather photo albums. After selecting a smooth finish add "Custom Stamping" to your cart from the "Related Products" list below and enter your text in the "Enter Stamping Instructions" box that appears in the cart.
All Raika products are made to order. Please expect 1 - 2 weeks before shipment. Custom stamping may add additional days before shipping.
Related Items:
Raika 178-R Refill

12 black sheets with four 4" x 6" horizontal pockets per side
Adds 96 photos

RA178-R