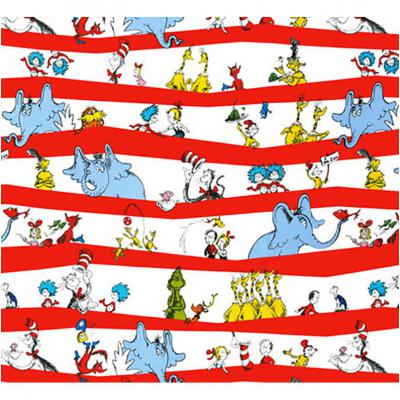 Celebrate Seuss! Fabric - by the yard
100% Cotton Fabric
Sold by the Yard
SKU

RK10788-203
This Celebrate Seuss themed fabric, features Dr. Seuss' iconic characters, including Horton, The Lorax, Thing 1 and Thing 2, The Grinch and more in this screen printed fabric on a white background. The design runs the full width of the fabric. This fabric is 100% cotton, approximately 44" wide and machine washable.
Product Details:
100% Cotton fabric
44" wide fabric
Screen printed
Manufactured by Robert Kaufman Fabrics - 10788-203
Washing Instructions: Machine wash gentle, cold. Non-chlorine Bleach. Tumble dry, low heat.
In stock products usually ship within 1 - 3 business days of ordering. Shipping is calculated by weight.