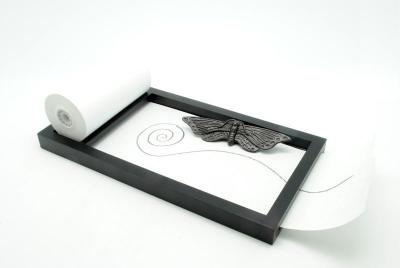 Paper Roll Tray
Wooden paper tray to write on with graphite objects
A great desk accessory!
SKU

BS200
This wooden paper tray is designed to functionally display graphite objects. When the drawing/writing area is filled, pull on the end of the paper roll to expose more space to create! The Paper Roll Tray comes with one 4.5" x 100' paper roll.
Tray dimensions: 10.75" x 5.5" x 0.5"
*GRAPHITE OBJECT IS NOT INCLUDED; Select a graphite object
How to Use
This item was designed as a display for the artisan made graphite objets d'art (objects of art), however it is also a great desk accessory and has also been used in many stores for testing other writing implements.
In stock; this item will ship within 1 - 2 days of ordering.